About School of Commerce & Management
The School of Commerce and Management at Garden City University is specifically designed to impart the particular skill set required for leadership roles in the business and corporate world. The School of Commerce and Management believes in nurturing young minds studying in the fields of commerce and management in a way that they are competent to handle jobs internationally. The programmes equip aspiring candidates with all the knowledge that they would need to ensure a fulfilling future. GCU, with its state-of-the-art campus facilities and infrastructure, is built exclusively to foster the students' growth and education. Its teaching faculty consists only of the best in the industry, with academicians and experts that regularly engage with students, not just through their syllabus, but with innovative teaching techniques. Students can take the help of their subject teachers to learn via case studies, competitions, event management exercises, live interactive projects, and others. GCU also believes in peer learning - every student has something to offer. The School of Commerce and Management aims to get its students involved with industry experts from an early stage. GCU has associations with various industry bodies like US-CMA, Confederation of Indian Industry, All India Management Association, Tata Consultancy Services, Infosys, among others. The School also arranges regular visits from experts from national and international companies. Career options for GCU graduates include jobs in fields like accounting, financial planning management, and market analysis, business development management, human resources, administration, recruitment, business solutions and data analysis.
Highlights
---
Contemporary curriculum every year & two mandatory certificate courses from different disciplines
Simulation-based learning environment along with Industry based micro project at the end of each semester
Leadership Module in association with organizations of world repute
GCC Exclusive - Budget Express (Pre & Post Budget Symposium)


Certifications in Tally, Advanced Excel, SAPRetail Analytics Certification


Course offered by Tata Consultancy Services


Upon completion of the program, students can opt for career choices in the field of Accounting, Financial Planning Management, Market Analyst, Business Development Manager, Strategic Account Executive, HR Executive, Administrator, Recruiter, Business Solutions Developer, Data Analyst etc.
Objectives
Implementing new strategies in academics
Unfolding platform for students from different spheres of life
Creating and sustaining culture
Promote the well being of all
Recognition of inter- disciplinary areas and excelling in it
Facilities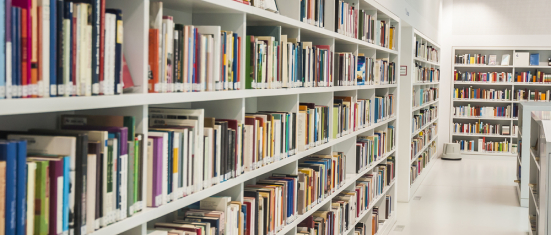 Knowledge Center
The School of Commerce and Management Studies has collection of various sources like educational, informational, economical and cultural aspects to enhance the reading knowledge of our students. A library is a collection of sources of information and similar resources with updated material. The department library has collections of books (national and international), periodicals, Peer reviewed journals, intra department journals, E-books, E-Journals, E-databases and other printed information..
Information and Communication Technology supports the academic assignments and the administrative functions of the school by providing a robust and stable campus infrastructure and helping faculty, staff, and students integrate effective technologies into their course curriculum, research and other academic work. We strive to provide exceptional customer service, while at the same time developing user skills to promote technical self-sufficiency. The school has well equipped computer labs to support our students in teaching and learning process. Our lab is fully air conditioned with ample number of systems. Read More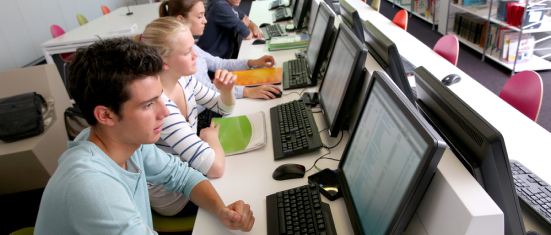 Commerce Archives and Laboratory
The Commerce Archive & Laboratory is a new concept, wherein students practice and convert the theoretical knowledge gained in the classroom. In addition students carry on more and more experiments. Mock commerce and business activities are undertaken in laboratory. By this method of learning and practicing, students will develop self-confidence of running a business profitably and understand the practical difficulties and challenges involved . in all the concepts. Read More
Student Development Programme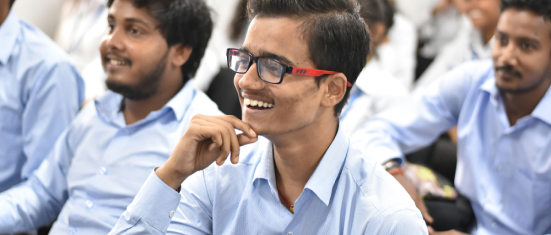 Finance & Investments Club
The Finance & Investments Club of Garden City University, popularly known as the "ArthVikas" is a student driven initiative that collaborates with both the corporate and academia from the financial sector to provide a platform for students to improve their quantitative and analytical thinking abilities. .
The club organizes activities to assist members in evaluating careers in finance and identifying current career opportunities, extend the practical finance education with job-specific knowledge and connect members with alumni and other finance professionals. Some of the more popular activities include industry talks, workshops, and information sessions about careers/companies, finance exhibitions, awareness campaigns, finance quiz and virtual stock trading competitions. Read More
Commerce and Management Association
Garden City Commerce and Management Association strives to provide lively avenues for students to shape their future by enriching knowledge, enhancing competence, imparting life skills and internalizing values through a plethora of competitions and living up to its vision of 'Compete, Collaborate and Create'. .
The association organizes events exclusive in the area of Entrepreneurship Development, Public Relations, Human Resources, Finance, Marketing, Quiz, Logo Slogan and Best Manager. These activities encourage students not only to learn to manage things on their own but also supplement their professional development in understanding the subjects involved with better clarity. Read More